I was researching my files and an idea sprang to mind when I was looking in my faces file. What it amounts to is I saw this face and said "Alien somebody" so I slapped it on a suitable body and commenced to dressing it. That is of course after I tweaked the skintone and added hair as seen on the template below. I do this from time to time when I get stuck on a micro that i'm already building. It breaks up any blockage I have when my creativity is directed elsewhere. His name is Zamphyr and as for his biography you can give it a try bud!



This is the basic template and I may make a female later on! :-)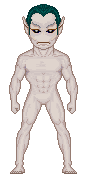 You will have to tell me how you center the image sometime so that I can do it too.